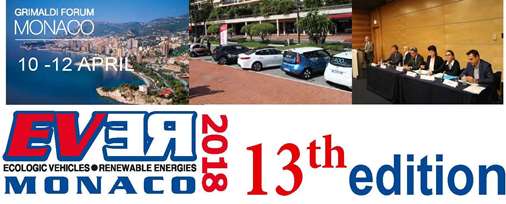 Stefano Lazzari (UNIGE) presented the first experimental results of XERIC climate-control system in the frame of the 13th edition of EVER Monaco – Renewable Energies & Ecologic Vehicles Forum.
EVER MONACO 2018
A forerunner for over twenty years in the electric vehicle and new energy sector, the Principality of Monaco contributes to its rapid growth by promoting the development of clean transportation. From 10 to 12 April 2018, the 13th edition of EVER Monaco opened its doors to a professional and public audience. The scientific conferences have been a great success with academics and experts. A hundred participants and 31 nationalities exchanged on their work and reflections on Sustainable Development.
XERIC's CONTRIBUTION
XERIC successfully organized its 2nd workshop in the frame of EVER2017. Therefore, XERIC partners were warmly welcomed to share their last results on Thursday April 12, 2018.
Stefano Lazzari from UNIGE (Italy) co-chaired the lecture session on Automotive Process Design and Performance Assessment. He also presented the main developments and results achieved so far within the XERIC project.
C. Isetti, E. Nannei, S. Lazzari, B. Cerrai, S. Nari (2018). XERIC climate-control system for energy-efficient electric vehicles: first experimental results and numerical evaluation of the overall performance. EVER2018, IEEE Xplore Digital Library (under publication. DOI tba). Download full text. ©2018 IEEE. Personal use of this material is permitted. Permission from IEEE must be obtained for all other uses, in any current or future media, including reprinting/republishing this material for advertising or promotional purposes, creating new collective works, for resale or redistribution to servers or lists, or reuse of any copyrighted component of this work in other works.