FRIGOMAR has successfully presented the XERIC technology at the 30th edition of the METSTRADE Show. The professionals of the marine industry are very interested in innovative solutions to increase the energy efficiency of the current air-conditioning systems installed on board.
The METSTRADE show is the world's biggest and most visited B2B leisure marine equipment show. It brings the marine industry together for decades. This global business platform and community focuses on innovation, market developments, and on-site networking. Over 1,500 exhibitors presented their products during the 30th edition organized from 14 to 16 November 2017 in Amsterdam.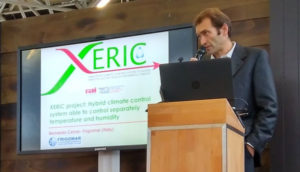 Bernardo CERRAI, from FRIGOMAR (read his interview here), took the opportunity to present the XERIC technology during this big event. The visitors, which are professionals of the marine industry, showed great interest in the project and its results.
XERIC technology's benefits for marine industry
The air-conditioning system design is based on the size and type of the boat as well as the climatic areas considered. For sailing boats, the energy balance is very critical due to the small size of power generators as well as the intensive use of the air-conditioning on board. There are also thousands of charter bases in the world. In the Caribbean in particular there are the largest fleets where yachts are rent weekly all over the year. The very hot and wet climate implies continued use of on board air-conditioning systems.
The XERIC technology could be applied to the boat air-conditioning in order to considerably increase the energy efficiency of the system. By coupling Xeric to the traditional VCC, many benefits can be forecasted such as:
Reduction of electrical demand from air-conditioning by 30-40%;
Downsizing of the power generator with reduction of dimensions and weight of equipment;
Possibility to dehumidify the air using low power.
Download the full presentation HERE.