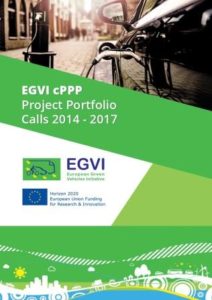 The new project portfolio edited by the European Green Vehicles Initiative Association (EGVIA) offers a first insight into results of projects launched under the framework of the Green Vehicle Initiative (2014 – 2017).
XERIC, as well as JOSPEL and OPTEMUS (see our joint activities with other EU projects section) are all three included in this portfolio with a two-pages presentation of their respective aims and results at the date of publication.
Have a look and discover these innovations making our road transport more efficient and greener!
This portfolio was displayed at the EGVI stand during the TRA conference in Vienna (16-19 April 2018). The event welcomed more than 3000 participants. Several hundreds of portfolios were printed for the occasion. About 400 EGVI USB sticks – with many documents including the project portfolio – were also distributed.
DOWNLOAD XERIC 2 pages presentation
DOWNLOAD EGVI cPPP Project Portfolio
Read more by visiting EGVI cPPP portfolio section
The EGVI cPPP
The European Green Vehicles Initiative is a contractual public-private partnership (EGVI cPPP) dedicated to delivering green vehicles and mobility system solutions which match the major societal, environmental and economic challenges ahead.
With a focus on the energy efficiency of vehicles and alternative powertrains, the EGVI PPP aims at accelerating research, development and demonstration of technologies allowing the efficient use of clean energies in road transport. Read more