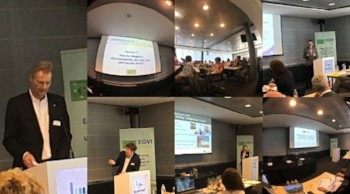 Gilbert Rios from EMH participated on June 20 in the workshop organized by EGVIA. He met there new contacts interested enough to go further from XERIC results.
EGVIA workshop on EVs and their integration into the grid
In front of more than 75 participants, many different stakeholders presented their projects' results and their views about the challenges related to the integration of EVs into the grid. Alongside the projects funded by H2020-energy and Green Vehicles programme presenting their findings, Transport for London and Barcelona Transport Council offered to the participants an overview of the challenges faced by public authorities. Lively debates followed each session of the programme, underlining the complexity of the topic.
One certainty came from the workshop: all stakeholders involved are facing specific issues but only a system approach will allow us to overcome the challenge !
Read more and download the presentations by clicking HERE