XERIC's presentations
EGVIA Two-page presentation (April 2018)
The new EGVI cPPP project portfolio includes a two-pages presentation of XERIC aims and results at the date of publication (April 2018).
Download it HERE.
EU Research one-page article: XERIC and its various applications
Read the EU Research article (Spring issue 2018) and get a pretty clear idea of XERIC's challenges and impacts!

Download the edited article HERE.
XERIC's Brochure
Download XERIC's brochure to learn all about XERIC at a single glance: XERIC's brochure
…
XERIC's short presentation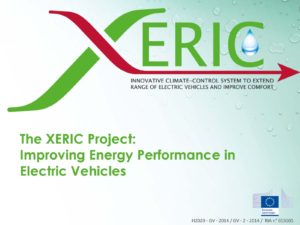 …
This 8 slides presentation will help you to better understand XERIC and share information about the project. Download it HERE
Participation in conferences & workshops
XERIC's partners take part in various event, in the frame of which they present the project and its latest results. The main events in which XERIC was presented are listed below with links for more information (e.g. event context & organization, presentation materials)
PERMEA&MELPRO, May 2016, Prague, Czech Republic

Improving Energy Efficiency in Electric Vehicles, 1st XERIC workshop, November 2016, Bologna, Italy. READ MORE

Seatec Exhibition, March 2017, Italy. READ MORE

New Progress in Air Conditioning and Thermal Management Systems for Electric Vehicles, 2nd XERIC workshop hosted by EVER Monaco, April 2017, Monaco. READ MORE

The 22nd China International Boat Show, April 2017, Shanghai, China. READ MORE

NOR-SHIPPING, June 2017, Oslo, Sweden. READ MORE

METSTRADE, November 2017, Amsterdam. READ MORE

Breakthrouhg Technologies in Climate Control Systems, 3rd XERIC workshop hosted by the Genoa Smart Week, November 2017, Genoa, Italy. READ MORE

ERTRAC-EGVIA 1st Conference: Results from road transport research in H2020 projects, November 2017, Brussels, Belgium. READ MORE

Automotive Process Design and Performance Assessment, EVER Monaco, April 2018, Monaco. READ MORE
3rd International Conference on Multiphase Flow and Heat Transfer (ICMFHT), April 2018, Budapest, Hungary.